Welcome
to
Betty's Haven
More of my Explorings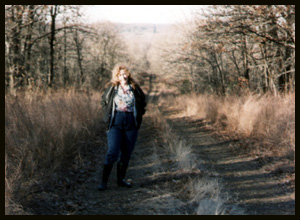 This is me standing on the old county line road in Camp Gruber. 1-24-1998
Back in 1936 when people lived in there, before they had to move out for Camp Gruber, my Daddy's cousin, Cicero Parson lived right by where I am standing. My mom and dad got married in the middle of the road about where I am standing in this picture.They got Little John Gilstrap, (father of Cicero's wife, Pearlettie) the preacher who lived up on the hill on the Cherokee side. The county road ran right between the counties of Cherokee and Muskogee. Their marriage license had been bought in Muskogee County so they all just walked out in the middle of the road to the Muskogee side and got married!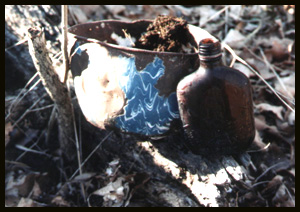 Old enamel pan and old bottle
When I was in there exploring around, I saw these old things of life gone by, on the Cicero and Pearlettie Parson place. The land was alloted earlier to John Dunback, brother of my grandpa Lewis Sanders. Their mom was Nancy Gafford Sanders Dunback Ziegler. I have found the old cellar remains at her place which was located about 1 mile or less North of here.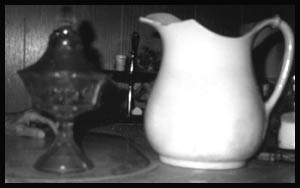 This is a picture taken of my grandma Maud Parson Sanders' old milk pitcher and candy dish. My aunt Moot had them before she died. She told me she had poured milk to drink many times from that old pitcher. She also showed me an old spoon that was her grandma's.
Next for more of my explorings
Email
Back to index
or Newest pages