Welcome
to
Betty's Haven
More of My FantasticExplorings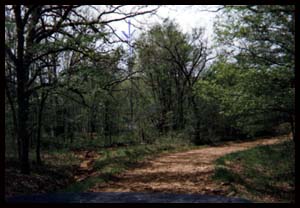 Looking west on Black Hollow road just west of old Battenfield place and just before Greenleaf road at the south gate, a short distance south of the old Greenleaf bridge the WPA built in the 30's. Before that, there was a swinging bridge across Big Greenleaf creek. Remember the bridge is just south of where the old Greenleaf school used to be. The road used to go straight here to join Greenleaf road, instead of curving like it does now. You will see why I am telling this when you read on below.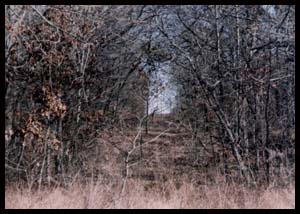 This is the old road when it went straight east up the hill. This picture is looking east from just inside the gate at the end of Greenleaf and Black Hollow roads, where they meet at the bottom of the hill west of the old Battenfield place. My daddy was driving on this road when he was dating my mama and one time he was going too fast to make this curve at the bottom of the hill and turned over his little 29 model A Ford car and mama went right through the canvas top! Daddy rode the little car on over and upright again! He thought he had killed mama but she was just dazed from hitting the ground after going through the top! Daddy said the wheel on his little car really wobbled after that wreck. He had to get someone to help drag the car home. Everytime I drive down Black Hollow road in this area, I think of my daddy and mama driving along and I feel somehow near them. Isn't that strange?!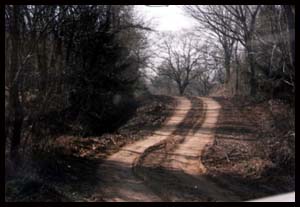 This is the road going west right after going through the gate at the bottom of the hill. If you look back east you would see the old road in the previous picture. The road went on west and a road also went South. Daddy was coming from the south when he couldn't make the curve. This road is near where the old Charlie Glass place was.
Next for more of my explorings
Email
Back to index
or Newest pages