Welcome
to
Betty's Haven
More of My Fantastic Explorings
Old road leading to the old original Greenleaf cemetery 4-18-1999
If you could call that a road, it is more like an old wagon road. It crosses the little creek that runs into Big Greenleaf creek, Northwest of here. Just on the other side of this small creek is where the old cemetery was.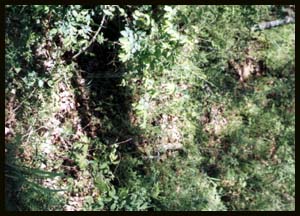 There are deep holes here in this old cemetery
This picture is of one of the many deep holes where the graves were moved out in 42.
Me standing in the little creek
We came back to visit this old cemetery in Jan 2000. It was a warm beautiful sunny day and we had a tailgate picnic at the top of the hill near the old Battenfield place. Just North and East from the old Battenfield place is where these cemeteries were located so long ago. Remember the red flowers were at the old Battenfield place I mentioned on one of my web pages.
Next for more of my explorings
Email
Back to index
or Newest pages