Welcome
to
Betty's Haven
More of My FantasticExplorings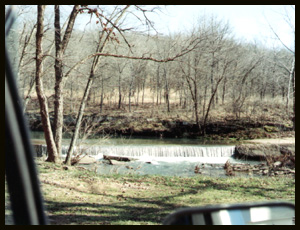 The slab bridge across Greenleaf creek on what is now called Burnt Cabin road
I think this is so pretty here. This old road used to be called Qualls road.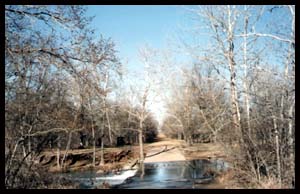 Slab bridge across Greenleaf creek
Here at this bridge, the road goes across on Burnt Cabin road and just after you get across the bridge going south, there is a little old road goes off to the right and south. It will take you to the old place where John Spencer used to live. It was called the old Whittles place. Then on across a small creek and up the hill is where Charlie Spencer place was. I took this picture from the south, going north. You can see off to the left across the creek is the Cedar Bluff road turnoff to the west.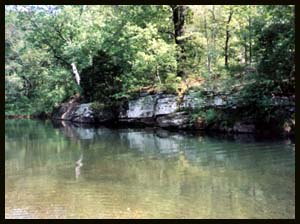 This is looking to the left from the slab bridge picture above
Just before crossing this bridge going south, there is a road leads off to the right (west) that is called Cedar Bluff road. (see above picture) If you follow it you will come to Diamond road and just past Diamond road, on the right (north) is where the old Indie and Arley Spencer place is. It is on Cedar Bluff road.
Next for more of my explorings
Email
Back to index
or Newest pages