Welcome
to
Betty's Haven
More of My Fantastic Explorings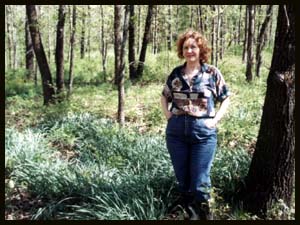 Me standing by a used to be grave in the old Miller Cemetery 4-18-1999
We found this old cemetery remains today. I was so glad to find it. I had heard where it was but couldn't go down in there until ticks and snakes are gone. We were cutting it pretty close today though! We came back to this old cemetery in Jan 2000.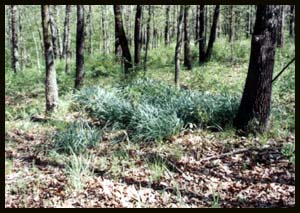 The Daffodil flowers are surrounding the grave area
A short distance on down the hill and across a small creek that runs into Big Greenleaf creek, is the old original Greenleaf cemetery. See the web page on it next.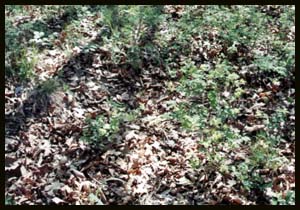 Holes can be seen where the graves were moved in 1942
It seems a shame that it wasn't their final resting place as they had thought before they were buried here. Little did they know that years later the cemetery would be moved for Camp Gruber, then be a wild life game refuge later. It was moved to the newer Greenleaf cemetery Southwest of Tahlequah where McCracken cemetery and many others were moved to.
Next for more of my explorings
Email
Back to index
or Newest pages