Welcome
to
Betty's Haven
More of My Fantastic Explorings
Looking up Big Greenleaf creek East of old McCracken cemetery 1-19-1998
This picture was taken from the East side just above McCracken ford". Uncle Tom Sanders, my daddy's older brother lived about a mile East, up this creek right on the bank.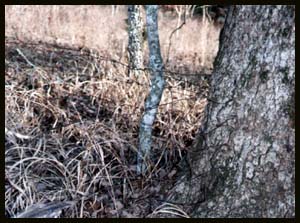 Part of a wire fence on Tom Sanders old homeplace of years ago
My uncle Tom Sanders, aunt Lucy Lyman Sanders and the rest of their family lived here at one time. Tom also had lived West of Sanders corner earlier in his life. He and his other wife, Nancy Lyman Sanders lived just East of the old Dazley place close to Little Greenleaf creek when Frank Hinds and family lived there. Daisy Hinds was telling me about it. That would have been back in 1916 or near that time. They lived at this other place in the middle 30's. They lived there when daddy met mama in 36. Great uncle Johnson Parson, Uncle Luther Parson and aunt Aggie lived near them close to this Big Greenleaf creek too. They also had lived near them earlier on Little Greenleaf.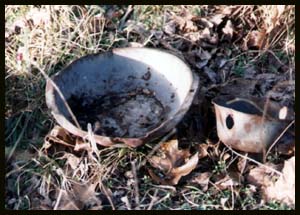 Old things on the old Tom Sanders place 12-19-1998
This is an old enamel wash pan (to wash hands in) and part of an old enamel dipper to drink water from.
Next for more of my explorings
Email
Back to index
or Newest pages