Welcome
to
Betty's Haven
More of My Fantastic Explorings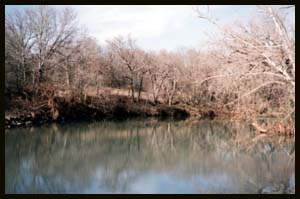 Big Greenleaf creek at the bend by old McCracken cemetery 1-19-1998
I took this picture from the East side of creek where the people used to ford the creek. It was called, "McCracken ford". The cemetery is on the bank on the West side of the creek. There is a small branch that runs into Greenleaf right here at the bend. I had found the cemetery the year before. We had to get to it from the other side of the creek down an old road. you have probably saw the web pages of it already if you have been looking at all of my exploring pages. I do hope you are because I really enjoy making them and sharing them with you.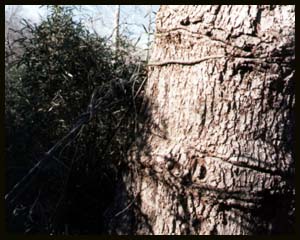 This is a part of a cable still attched to an old tree where they forded the creek.
It was sure fun finding old McCracken ford. We had to walk for about a mile up an old road that quit being a road years ago, so we made our way through tall cane for a long way along the bank of Big Greenleaf creek. I could only see cane on all sides with a little sky light coming through the top! The ground was just dirt and sand back in all that cane.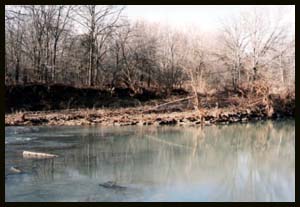 McCracken Ford 12-19-1998
This picture was taken looking West at McCracken ford. The old road can be seen going North to the old cemetery. Sometimes they called it the old Wiggins cemetery because one of my relatives lived close by and their name was Weigand. Lucy Gafford Weigand who married George Weigand. Lucy was sister to my great grandma Nancy Gafford Sanders Dunback Ziegler. Nancy was my great grandpa Sam Sanders' wife. They were the parents of my grandpa Lewis Sanders. Be sure and see my great grandma Nancy's old cellar explorings.
Next for more of my explorings
Email
Back to index
or Newest pages