Welcome
to
Betty's Haven
More of My Fantastic Explorings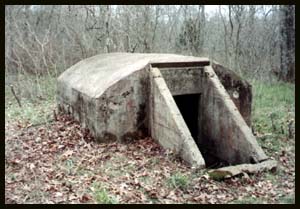 Big old cement Cellar where Cedar Bluff road and Whiteoak road meet
This is that big old cement cellar I mentioned on my web page, "Many Sides of Betty page two". It is just South and up the hill from where I waded the creek and had a picnic on Easter Sunday 2001. I first found this cellar 3-27-1999. I was told that "Dide" Redfearn (brother to Grant Redfearn) used to live here on this old place. Then Clarence Marsh bought the place. I have met and talked to "White" Marsh and he has pictures of the old place.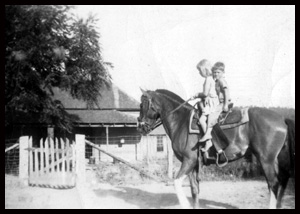 Clarence Marsh house
Little boy is "White" Marsh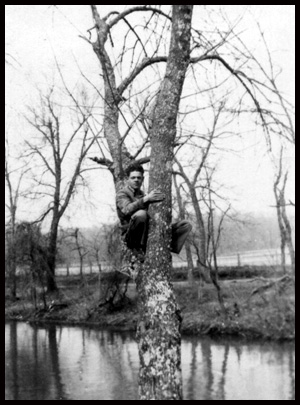 "White" Marsh in tree on Greenleaf creek not far from their house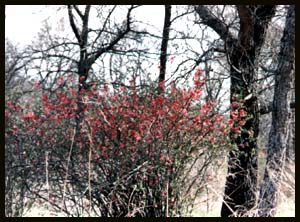 Red flowers blooming on Black Hollow road 3-23-1997
This place used to be the old Battenfield homeplace. It is located just South of the old Greenleaf bridge the WPA completed in 38 and East a short distance, on top of the hill on Black Hollow road. I always called these flower bushes, "firebushes", but the correct name is, "Jaunicah" bushes. I don't know how you spell it though. lol There is a deep old dug well on this old place, not far from these flowers. There are also lots of yellow Daffodils blooming in the Spring here on this place. Across the road is an old cattle dipping vat. And just North and down the hill, of this old place is where the old Miller and Greenleaf cemeteries were originally, before Camp Gruber had them moved in 42.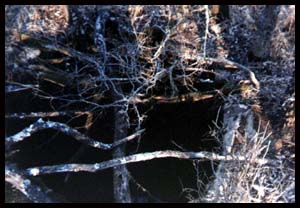 The old Battenfield well
This is a deep old well and has water in it yet. I have explored this old place several times. There are lots of flowers blooming in the spring. There is still part of old rock foundations and cellar remains.
Next for more of my explorings
Email
Back to index
or Newest pages