Welcome
to
Betty's Haven
More of My Fantastic Explorings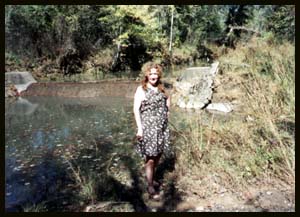 Me standing at a little dam the WPA built on Little Greenleaf creek 10-12-1996
This place is about 1/2 mile West of Sanders Corner. I didn't know it at the time, but this little dam is located just a few hundred yards West of where my grandpa James Louis Dazley had a place. He rented it out to Frank Hinds and family. They are kin to me too. Daisy Hinds Cunningham, my cousin, told me about it.
Old foundation rocks at old James Louis Dazley property 12-5-1999
I found a few of the old rocks from the foundation in 12-1998 but didn't have any film left to take a picture so had to wait a whole year to get back in there and take a picture. The old house was what they called a "box house" with just outside walls. Daisy Hinds lived in it with her dad, Frank Hinds, her mom, Addie James Hinds and the rest of the family. Oh yes, she said her grandma Mary Baufman Hinds lived with them too after William died. They all lived on the old Hinds place (10 acres) when he died I think. Her little brother Arvil and Floyd died at the old place too I think.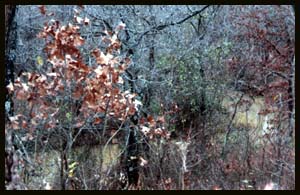 Little Greenleaf creek behind the old Dazley place
Little Greenleaf creek can be seen from the old homeplace. This area is just Northeast of the little dam where I am standing in the picture at top of page. Frank Hinds and family sharecropped the place (several acres) for my grandpa James Louis Dazley. He owned property on both sides of the creek. Daisy said the soil was really good for growing and raising crops.
Next for more of my explorings
Email
Back to index
or Newest pages