Welcome
to
Betty's Haven
More of My Explorings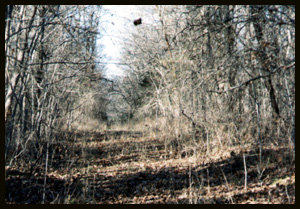 Old county line road near the old McCracken cemetery
Dec 27, 1997 I decided I was going to try to find the old McCracken cemetery where so many of my relatives had been buried before the cemetery was moved and relocated so Camp Gruber could be developed. This it the old road near it.
Me at the old gate hinge that is left to tell the tale! 12-27-1997
I found part of the old gate hinge still hanging on a tree where the gate to the cemetery used to be. I was so thrilled to find it. One of my cousins told me how to find it.
A closer look at the old hinge
Next for more of the old cemetery adventure
Email
Back to index
or back to Newest pages index