Welcome
to
Betty's Haven
More of My Fantastic Explorings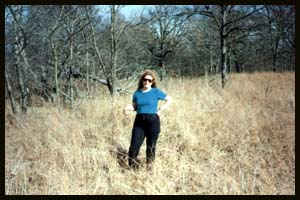 Me at grandpa's old homeplace 12-7-1996
I was so glad to find this birth place of my daddy. I wish I could have found it before he died. I missed it by a few months. My daddy died 7-1-1996. I would have loved to have took him here and listened to him tell the stories of his childhood. I would have liked for him to show me the place where his dog, "Old Tood" would go to pout when he was upset at daddy. lol He said it was out behind the house by the fireplace chinney.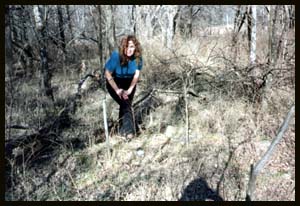 Me standing about where the house used to be
The house can be seen on my Sanders family pages. I have a Sanders index on my main index, if you care to take a look when you get time. There are lots of pages and pic's.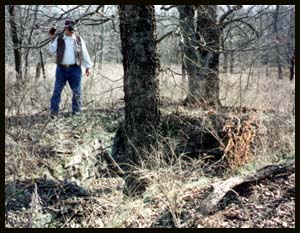 My cousin looking at the old cellar
This is my cousin, he was my daddy's sister's son. He spent a lot of time at this old homeplace as he and his parents lived here with them part of the time when he was a child. He went to the Mt Zion school too. He called my daddy, "uncle Jerby". I do hope you saw the explorings of Mt Zion school.
Next for more of my explorings
Email
Back to index
or Newest pages