Welcome
to
Betty's Haven
More of My Fantastic Explorings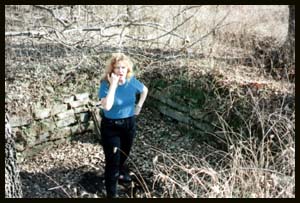 Me standing in grandpa's Cellar 12-7-1996
I first found my Grandpa's old cellar in 96. It was not easy to find due to the fact of Camp Gruber occupying the land since 1942 when the government bought the property and made every one move out so Camp Gruber and Greenleaf Lake could be developed. Camp Gruber allows only limited access to the area during hunting season. I only get to go exploring in there in December when the snakes and ticks are gone and only on the weekends when a person can drive in there. Even then there are lots of hunters so I go when it is Bow and Arrow season. I usually take a picnic lunch and eat in the pickup or if it is warm enough, out on a chaise lounge. It is really fun to do these things in my old age. lol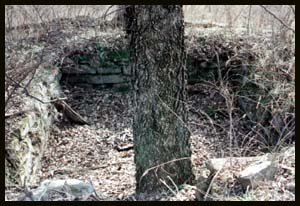 Grandpa's cellar remains 12-7-1996
There is a tree which is growing by the steps where the door used to be. It is located at Sanders Corner about 1 1/2 miles East of Braggs. My dad was born at their home at Sanders Corner. He went to school at old Mt Zion school located on the prairie East of Braggs.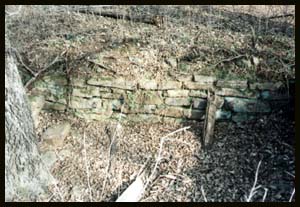 This is another view of Grandpa's Cellar.
I was so glad when I found it. So many emotions welled up inside. I could almost hear my grandma telling my dad to go to the cellar and get a jar of canned fruit or some potatoes or something. I found the old home place area before I found the cellar on an earlier exploring expedition. When I found it, I felt like somehow I had found my way home. Tears welled up in my eyes with so much emotion. I wish I could somehow go back to that time and get to know my dad's family and see how they lived. My grandpa died the year before I was born and my grandma died the year after I was born so I didn't get to know them.
Next more grandpa's cellar and my explorings
Email
Back to INDEX