Welcome
to
Betty's Haven
More of My Fantastic Explorings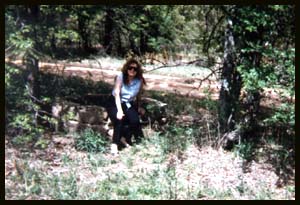 This is me sitting on an old dug well on Greenleaf road. 4-27-1996
It is located on the west side of the road where Hutchinson road meets Greenleaf road.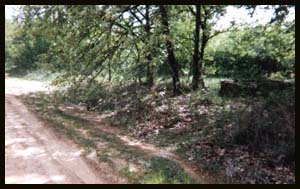 This is Greenleaf road (looking south) and you can see the old well on the right side of the road near the trees. There used to be an old homeplace north of the well. We did not find anything but the well until 4-1-2001, then we found flowers blooming and a few rocks for the old foundation. There used to be an old streetcar across the road on the east side which was used for Woodard school after the old wooden building burned.
A closer view of the old well. At least this one has rocks built up on the sides, unlike some of the old wells we find down in there. Some are level with the ground and nothing covering them. I have seen this well with water in it and I have also seen it dry in the summer.
Next for more of my explorings
Email
Back to index
or Newest pages